A Guide to Search Engine Optimization (SEO)
What is SEO and How Does it Work?
The term SEO stands for search engine optimization. It is the process of optimizing your site to increase its visibility and generate traffic when people search for a product or service concerned with your business on search engines like Google, Bing, Internet Explorer, etc. Search engines like Google and Internet Explorer consist of bots that crawl and scan pages on the web, from site to site and collect information about these sites and puts them in an index. This index is a giant collection of various websites. The order of their appearance on search engines is decided by some algorithms and analogies. The website which has the most relevant information that the user needs appears in the top suggestions of the search engines.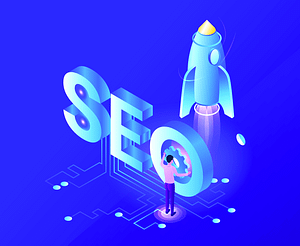 Importance of SEO for Businesses
SEO is much about people as it is about search engines. Optimized search visibility ensures better trafficking as it will appear easily in front of consumers. SEO is important for many businesses for the following reasons:
● Boosts Credibility – A higher ranked site on search engine results is considered to be the most relevant and trustworthy by search engines, which in turn boosts your Business Credibility.
● Cost-Effective – Search engines crawl your sites, promotes important and relevant content, and help you find new customers organically without any paid promotion. You just have to write good content better than the other.
● Gives you a competitive advantage – There may be different competitors involved in the same business like yours, so you can identify your competitors and analyze their content and create a better online reputation than with the best relevant content.
● Wider audience reach – Millions of people surf through search engines each second, and hence you can reach a wider audience through SEOs, by having better content.
● Improves website usability – When you develop your website with good quality content, making it faster and more efficient, you get a good website structure overall. This will play a crucial role in your search engine rankings.
● Higher user engagement rates – An optimized site will generate good quality traffic. If you develop useful content on your site that is most likely to match searchers' interests, then they will be spending more time browsing on your website. This may lead to higher conversions, resulting in an increased ROI.
What is an SEO Course?
It is a certified course where you will learn all things related to SEO, the theory behind the google search, and other different search engine algorithms. You will also learn about website optimization, link building, keyword research, online content development, and much more. This course is beneficial for any individual who wants to become a professional in SEO practices.
SEO Course in Malaysia
SEO course in Malaysia has a very good scope for many individuals. In this digitalized world, SEO has become a key strategy in the digital marketing area for many companies. Also, Malaysia has a stable economy with high internet dominance. Internet usage in Malaysia is growing each day, which provides a gateway for a lot of opportunities in this field. Many companies have a demand for SEO specialists for improving their on-site content and are hiring them to boost up their businesses and stay ahead of their competitors. One looking for making a career in SEO can pursue an SEO course in Malaysia.
Benefits Of Taking an SEO Course in Malaysia
SEO course in Malaysia helps the students to shine in their career by gaining remunerative jobs. This training course helps them to understand and gain knowledge on SEO techniques and how to use them for optimizing the sites. You will get to know about various terms like content marketing, keyword research, optimization of content, etc. The course will cover the below mentioned key areas related to the SEO course in Malaysia:
● SEO and its importance
● Importance of Keywords in SEO
● Optimization of contents
● Content Strategies
● Importance of local SEO
● Powerful link building strategies
● Key Tools used in SEO
● How to Rank Higher in Search engine results page
Scope for SEO Course in Malaysia
The Internet era has been growing and expanding over the years and SEO has been playing a crucial role for many companies by bringing visitors to their websites. It has become the hotspot for many job opportunities in the digital marketing area. SEO has a bright scope if you possess good analytic, content-building skills, and are dynamic enough to stay updated with the latest trends in this field and develop accordingly to plan clever content strategies than that of the competitors. The demand for SEO professionals will keep growing, and hence if you pursue an SEO course in Malaysia it will surely be beneficial for your career.
SEO Course in Malaysia – i3Matrix
If you are ready and have decided to take an SEO course in Malaysia that will help you to excel in your career, then you should take up the SEO Course in Malaysia offered by i3Matrix. We offer the best SEO course in Malaysia which is affordable for everyone, accepted by all top companies in Malaysia, and applicable to all professionals. We help you in expanding your knowledge and understanding the online marketing strategies, also help you in getting good placements in top industries as SEO analyst, Content writer, SEO manager, SEO specialist, content manager, etc. We offer the best SEO course in Malaysia that will promote your knowledge and skills in:
● Search engine optimization
● SEO strategies
● On-page and off-page optimization
● Keyword analysis
● Link building
● Whitehat and blackhat techniques
● Content management and more.
This SEO course in Malaysia is suitable for anyone who wishes to build their career in the digital marketing industry. For any queries, you can contact us with the below-mentioned information.
Contact us today for more information or visit our frequently asked questions to learn more!
E-mail: info@i3matrix.com
Mobile/Whatsapp: +60 19-3999853